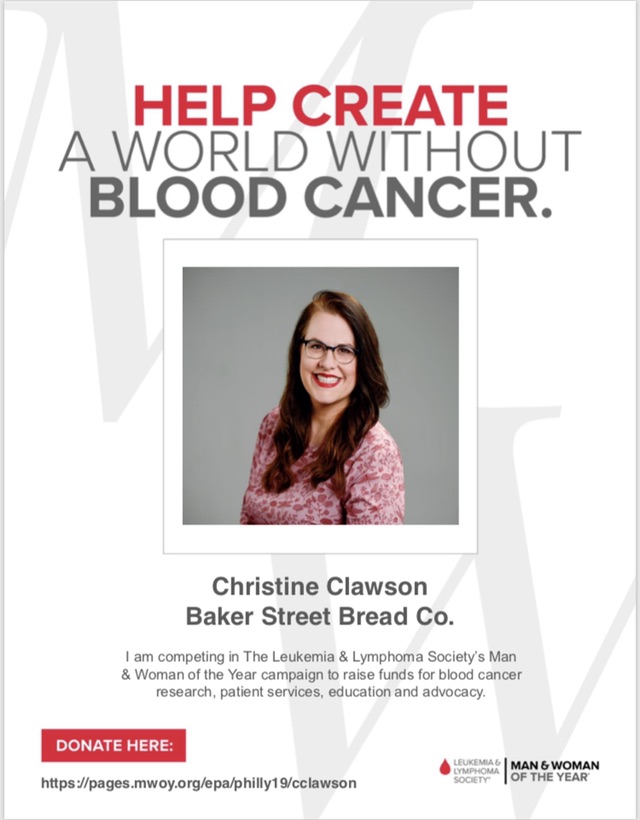 Chestnut Hill Gives Back | 11:00 AM - 5:30 PM
Please join us for "Chestnut Hill Gives Back" day on Wednesday, May 1st.
Our neighbor, Chrissy Clawson, at Baker Street Bread has been nominated for the Lukemia & Lymphoma Society's Man & Woman of the Year campaign. As part of this nomination, she will be raising funds for blood cancer research, patient services, education and advocacy. Participating shops will be giving a percentage of their sales on May 1st to Chrissy in order to help reach her goal of $50K. Please consider shopping with us so we can help her efforts.
To learn more about Chrissy's cause and hear her story, click the link below.
As you know, everyone wins when cancer loses.
https://pages.mwoy.org/epa/philly19/cclawson
Event Location
Windfall Gallery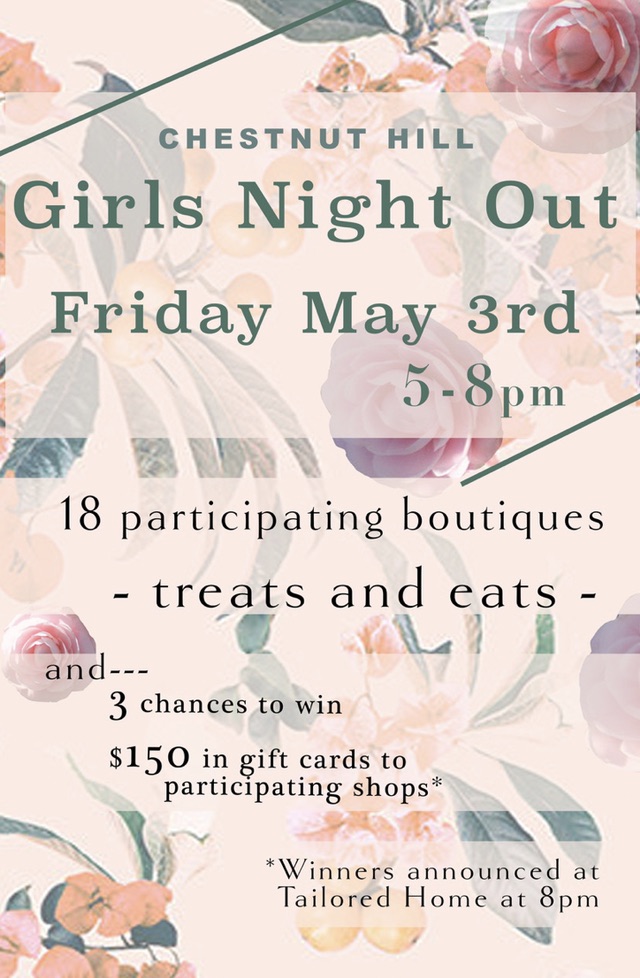 Girls Night Out | 5:00 PM - 8:00 PM
Grab your girlfriends and come to Chestnut Hill on First Friday, May 3rd from 5:00pm until 8:00pm. Sip, Shop, and have fun at participating stores. Each purchase results in a raffle ticket. (one purchase = one ticket; 2 purchases = 2 tickets and so on.) All participating stores will donate a gift card to be included in 3 grand prizes at the end of the evening. Upon conclusion of Girls Night Out, everyone will head to Tailored Home for an After Party and raffle drawing. Three winning tickets will receive gift cards valued at $150 To identify which shops are participating, look for the pink balloons outside our stores. We look forward to seeing you at the first of many Girls Night Out in Chestnut Hill! -Artisans on the Avenue -Atlantic -Bohemian Pink -Claudia Mills Rugs -El Quetzal -Ellelauri -Host Interiors -J McLaughlin -Mango -Noble Goods -Oxford Circus Toys -Quelque Chose -Sara Campbell -Serendipity -Style by Blain -Style Camp -TC Unlimited -Tailored Home -Threadwell -Windfall Gallery
Event Location
Windfall Gallery