Giant Eagle Rehabs in Stanton Heights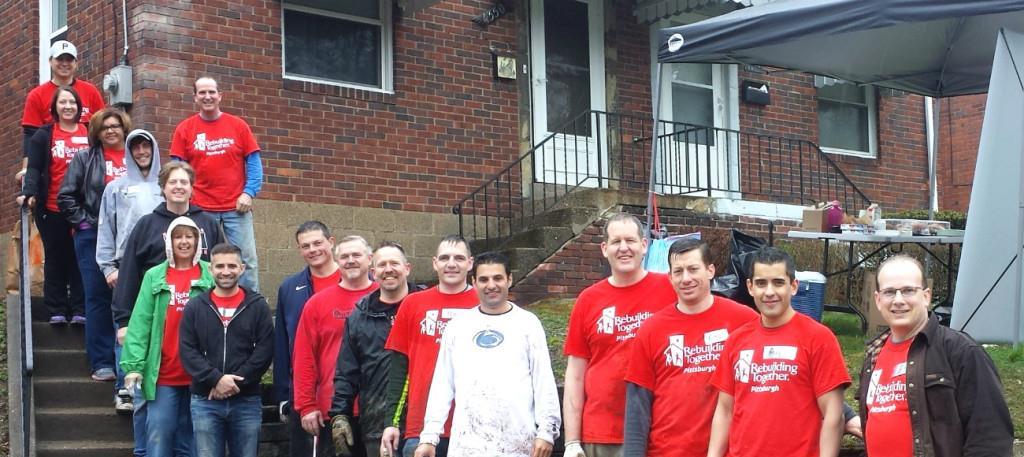 This year Giant Eagle sponsored a house on April 16th in Stanton Heights and sponsored and worked on a second house on National Rebuilding Day -- Saturday April 25th.

Giant Eagle has partnered with Rebuilding Together Pittsburgh (RTP) since 2007 to strengthen communities in and around the Pittsburgh region. The corporation contributes financial resources, and individual employees volunteer their time and skills to the rebuilding efforts. This year, in addition to sponsoring a house on National Rebuilding Day, Giant Eagle choose to sponsor a second house on April 16, 2015. Seventeen Giant Eagle executives spent a rainy Thursday in Stanton Heights creating a safer and healthier home for Ms. Karen, a senior community member currently battling cancer.

In just one day, this wonderful volunteer group was able to completely rebuild the previously unsafe back deck; dig out the existing but crumbling retaining wall, install new French drain, and rebuild the retaining wall; waterproof the entire basement; refresh the handrails that guide Ms. Karen from her front door to the driveway; and brighten the kitchen with a new coat of paint. These accomplishments were a great benefit to Ms. Karen and the volunteers alike.

Partnering with RTP allows the volunteers to be completely community-minded for the day and share a camaraderie with their co-workers. They enjoy the team-building atmosphere and reconnecting with colleagues they may not work with closely on a regular basis. A Giant Eagle executive that has volunteered for RTP since 2007 said she always looks forward to this day and is continually amazed at what can get done with many hands and hard work. She and others said volunteering with RTP is fun and easy because all materials, tools, and projects are prepared beforehand. Many agreed that it is very rewarding for them to see the immediate positive changes with lasting impact that their efforts make.

The determined and cheerful way the Giant Eagle volunteers powered through challenging house projects clearly demonstrated Giant Eagle's commitment to enriching the lives of their customers, neighbors, and employees who live in the neighborhoods they serve. Thanks Giant Eagle!