Free Delivery
or
Parking Lot
Pickup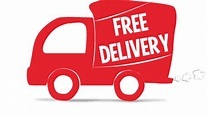 We Offer
F
ree Delivery
We can deliver your medications to you at your home.

We have been doing this
for FREE for over 30 years

If you need a delivery,
call and
TALK TO ONE OF US
in the pharmacy..
-PLEASE, DO NOT
leave messages on the
recorder about deliveries.
Please call us and we can tell you
if we can make deliveries to you.

Our Delivery Area includes:
The Greater Muncy, Pennsdale, Hughesville,
Picture Rocks and Montgomery areas.

We deliver 6 days a week
(Monday to Saturday
but NOT ON Sundays).

Have your orders called in to us
by 11 AM for that same day
or next day delivery

During this Pandemic,
Our Drivers will not
go into your home,
just to your door.
FOR PAYMENTS,
we will call you before the delivery with the amount,
so you can have a check
ready for the driver.

Or, We can put the amount on your credit card.
If you want it on a credit card.
We must do this, in advance, over the phone at the store.


(Our drivers cannot process credit cards)


We want to limit the contact time you and our drivers have.
The drivers are to stay at a safe distance
from you during this pandemic.

For some patients outside of
our delivery area,
we can mail your prescriptions to you.
Please CALL AND TALK TO US.

On most days, we also have Milk, Bread,
Cleaning Supplies, and sometimes
Toilet Paper.
We will deliver what you may need with your prescriptions.
If you do not want to come into the store
Parking Lot Pickup
We will bring your items to your car
in front of the store.

All you need to do is call us from the Parking Lot and we will bring your order to you.

To Pay
Please call ahead before you come to the store.
We will give you the total amount.

Then you can have a check ready for us at your car
or
You can give us your
credit card information and
we will have your receipt for you.

This way, we only need to give you your items.
Our Goal is to limit contact time.